Lenkowski, Lonergan & Co., LLP is located in Middlebury, Connecticut which is in the greater Waterbury area and serves clients in Connecticut and the Northeast. The firm was originally founded in 1965 by Robert A. Lenkowski (deceased in 2013). He was joined by partners William M. Lonergan in 1967 (deceased in 1992), John R. Sullivan in 1971 (retired in 2004), Paul M. Scionti in 1987 (retired in 2013), Leonard M. Romaniello, Jr. in 1998 and Salvatore J. Santapaola in 2008. From its humble beginnings the Firm has grown to be a leader in the profession.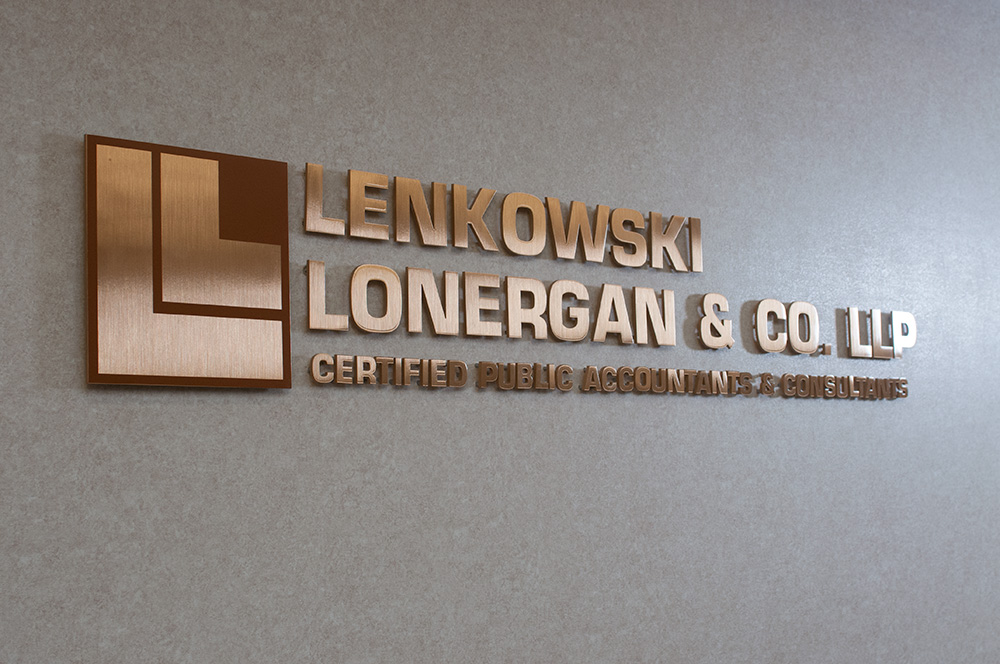 Our staff is comprised of ten professionals, all Certified Public Accountants, each having no less than ten years of in depth experience.
Since its inception in 1965, Lenkowski, Lonergan & Co., LLP has made an uncompromised commitment to accountability in client service and in people development. We believe so strongly in being "client driven" that we were one of the first CPA firms in the country to voluntarily enroll in the AICPA Peer Review Program.
A mandatory intensive independent peer review takes place in our firm once every three years. We have recently completed our tenth successful peer review resulting in the "highest recommendation" for quality that the accounting profession offers.
This recommendation provides our clients, businesses, attorneys, banks, and other credit grantors a means for measuring the level of professional competence.
Through the Peer Review program, you are assured that work performed by Lenkowski, Lonergan & Co., LLP not only meets the stringent criteria established by the accounting profession, but also demonstrates our commitment to our clients and our profession.
We believe in the value of relationships. We view every client relationship like a partnership, and truly believe that our success is a result of your success.
We are committed to providing close, personal attention to our clients. We take pride in giving you the assurance that the personal assistance you receive comes from years of advanced training, technical experience and financial acumen. Our continual investment of time and resources in professional continuing education, state-of-the-art computer technology, and extensive business relationships is indicative of our commitment to excellence.
Quality has always been the cornerstone of our practice. We at Lenkowski, Lonergan & Co., LLP never settle for anything less.
Protection of Personal Information
Our policy is to protect and safeguard the confidential nature of personal, non-public information that we may obtain concerning employees, customers, clients, and other individuals. This information includes, for example, social security numbers, driver's license numbers, state identification cards, account numbers, credit or debit numbers, passport numbers, alien registration number, and health insurance identification numbers ("Personal Information").
We will only disclose Personal Information on a strict business need-to-know basis and to the extent required or permitted by law. We will use commercially reasonable safeguards to prevent unauthorized access and disclosure of Personal Information. Although security cannot be guaranteed, we will maintain physical, electronic, and procedural safeguards to minimize the risk of unauthorized access or disclosure of such information.
We will destroy, erase, shred, or make unreadable any business records that contain Personal Information prior to disposing such information. We may dispose of Personal Information by contracting with a person or firm engaged in the business of disposing of records that contain confidential information.
Employees are prohibited from accessing, using, disclosing, or revealing Personal Information for unauthorized purposes. Employees only may acquire and use Personal Information for legitimate business purposes and must safeguard the privacy of the information and take reasonable measures to ensure that Personal Information is protected from disclosure and misappropriation.
We retain records relating to professional services that we provide so that we are better able to assist you with your professional needs and, in some cases, to comply with professional guidelines. In order to guard your nonpublic personal information, we maintain physical, electronic, and procedural safeguards that comply with our professional standards.
Consistent with these policies, we may impose disciplinary measures for actions not in compliance with this policy. All complaints or allegations of violations of this policy will be investigated and we will take appropriate action.
Please call if you have any questions, because your privacy, our professional ethics, and the ability to provide you with quality financial services are very important to us.